This piece, written by author, poet, and educator,

Sara Holbrook

, asks the right question regarding who is responsible for James Alex Fields' recent horrific actions in Charlottesville, Virginia, on August 12, 2017. In ramming his car into a group of alt-right, neo-Nazi protesters, he killed

Heather D. Heyer

, 32, of Charlottesville and injured 19 others, several very seriously.
In reflecting on recent events in Charlottesville, Holbrook offers up James Alex Fields Jr., as the progeny of insufficient attention in curriculum and teaching in our nation's classrooms about "current events" or as a result of not having students research "the historical social structures that led us to where we are today" (see Holbrook's post below).
I appreciate her reflection, but her statement, in my view, needs to get converted into a question and it needs to get anchored in a progressive movement for change, namely, the Ethnic Studies movement that has taken—or is beginning to take—root in states like Arizona, California, Texas, New Mexico, Oregon, Colorado, and Minnesota.
That said, I ask teachers, administrators, practitioners, and blog readers to please be aware of what is called the "white liberal dilemma." This is where whites identify themselves as "the problem" and because they "caused it," they also think that "they're" the ones to "fix it." Were it only so simple as a formula for getting us out of this morass.
This is indeed a "wake up" call to teachers as Holbrook suggests, but I ask whether teachers are even prepared to address such issues as white, ethno-nationalism, racism, prejudice, bigotry, and their institutionalized expressions competently even if they agree that this is what is needed? And I'm not confident that we are anywhere near shared agreement on this anyway. Plenty of ignorance, implicit bias, and unresolved prejudices also abound.
Plus, since no one is born with the ability to teach these themes in a thoughtful, reasoned, and ethically-grounded way, then let's go to the experts whose job it has been—and will continue to be—to labor in this area.
Even under the best conditions of a willing faculty, they are, as a whole, woefully ill-prepared and lacking in time due to the ways that our test-focused, de facto curriculum structures out all of the critical, higher-order-thinking course content that both students and teachers could be learning from.
Amazingly, nearly all of our nation's teachers have themselves been educated within public elementary, secondary, and higher education institutions that stubbornly reproduce current constellations of power centered on whiteness and white privilege despite plenty of rhetoric to the contrary. This is evidenced through the systemic socialization of our youth into a monocultural, monolingual, and monochromatic thought-world that for children of color on the receiving end, both alienates and objectifies them. It dismisses their languages, cultures, and community-based identities and reduces them to objects, with their value frequently amounting to little more than a number—a test score—on a piece of paper.
And what about not just what they want to be when they grow up, and what about who they want to be? And remember that who they want to be comes straight out of the values of their experiences, communities, cultures, and sense of place in history, society, and the world. What matters is not solely what we know or how highly we achieve in life. That's superficial and inauthentic. What matters instead is whether this life has taught us to be caring, respectful, and to love the "most unloveable" among us. It has taught us to live lives full of gratitude and to welcome "the stranger" among us. As teachers and professionals, we embrace the moral and ethical commitment "to do no harm." It is to do what Creator,

God,

Dios, Allah, Jehova, Pachamama, requires of us, "

To act justly and to love mercy and to walk humbly with your God." (

Micah 6:8)
Unfortunately, the opposite holds true in far too many quarters in our country. We inhabit a world where folks are "othered," or treated as deficient, as "other." They are oftentimes invisible. Son los invisibles. It matters not that their kinship structure and identities are deeply rooted to this continent or that they, as a people, can be a vehicle to the one of the world's most important languages spoken by a widely diverse people. I refer here to the culture of an educational system that is so profound that "going charter" or "going private" won't fix—and may even exacerbate.


This is an educational system that routinely and casually "treats" them. It "administers education" to them. If they fail, it's their fault. They are systematically "othered" into a "we-they" frame that privileges whiteness on the one hand, and constructs "the other's" difference as deficiency, on the other—and mostly unbeknownst to the perpetrators themselves. A good education, a buena educación can fix this. I tiny bit of awareness can un-do much harm.
Schooling itself becomes a patron-client relationship characteristic of colonialism in segregated contexts in the way that the late Berkeley professor and renowned anthropologist, Dr. John Ogbu, cogently captured in his classic ethnography,

The Next Generation (Ogbu, 1974).

His work is widely used in schools of education like my own to capture the stuff of majority-minority relations in U.S. society. These terms do not refer to numbers, but to power in society—specifically, cultural, economic, social, and political power. Societies can have numerical or demographic majorities that nevertheless lack cultural, economic, social, and political power. This is exactly the situation in which children of color—or minorities—are found not only today, but historically, as well.
While some of this "treatment" is overtly hostile in our education system, it is mostly covertly experienced. As a minority, for example, one may not know the details, regarding why your school is segregated, underfunded, excessively test-focused, or why you are getting tracked into lower-level courses, but you do know that you're not getting the attention you need from teachers and that the expectations held toward you are low. Not that the situation is any better, as a whole, for white children living in poverty, however the way that they experience all of this can be markedly different.
White children and parents on the receiving end may feel exceedingly shortchanged as many minorities, but because they feel entitled to something better in U.S. society, working class resentment can result. Berkeley Sociologist Arlie Hoschild captures this well in her latest book,

Strangers in Their Own Land: Anger and Mourning on the American Right.
Even if some positive change has occurred in the span of our relatively short history as a nation—including the presence of Hispanic-serving institutions (HSIs) and Historically Black Colleges and Universities (HBCUs), as a whole higher education is very conservative and white, meaning that they conserve white, middle- and upper-class, privilege and existing constellations of power in society. The supposition on the right that our institutions are packed with "tenured radicals" is laughable and not even close.
Although many are changing, including the University of Texas where I teach, universities as a whole, much like their K-12 counterparts, are assimilationist, conservative institutions. This systemic bias explains why campaigns, policies, and officers for diversity and inclusion abound.
Instead of our teachers "calling out" injustice, oppression, inequality, racism, sexism, homophobia, and white supremacy as Holbrook suggests, they actually need to "teach it," and teach it well. However lofty this goal, it cannot get accomplished without a deep, interdisciplinary subject-matter, knowledge of these things such as through the critical, historical content (like colonization, individualism, racialization, intersectionalities, white privilege, etc.) that an Ethnic Studies or Women and Gender Studies course or curriculum could provide.
White Studies is itself a growing interdisciplinary field within Ethnic Studies that could be particularly illuminating, if not altogether transformative, on the very topics of whiteness, white privilege, ethnonationalism, and the myth of meritocracy, to name a few. Yes, white (male and female) liberation is possible and, in fact, necessary in a complex, highly-diverse, racialized, interconnected world.
Anything short of a critical curriculum like this at best, is tantamount to hang-wringing and a stoking of white, liberal guilt as if this were itself a pedagogy, policy, or panacea. At worst, it becomes a "white liberal dilemma" that leads to, if not justifies, inaction.
Check out this

story

from one of Fields' former teachers to see how this young person idolized Hitler and Nazism. What kind of curriculum can disrupt this? What kind of teacher preparation can help teachers anticipate this? I have blogged amply about this and it is clear to me that while one can "stumble into" these critical frameworks within virtually any field or discipline in the humanities or social sciences, a matter of such importance that is currently tearing at the fabric of our country, should not be left to chance.
To help illustrate the difficulties and possibilities of white, male (and female) liberation from the perspective of a white, male teacher with a doctorate from the University of Southern California, here is a courageous, if painfully honest,

story

out of the Los Angeles Unified School District (LAUSD) that helps deliver the point that positionality or standpoint matter enormously in education. These terms refer to how one positions oneself in society, as well as how to how others position you based not solely on how you "look," but also on how you "be," based on the particularities of your own biography and whether it is in any way close or proximate to the experiences of the children whose hearts and minds you desire to reach.
This LAUSD teacher wrongly thought that he had all the requisite skills, knowledge, and motivation to do a good job as a teacher in the inner-city school to which he was assigned. Accordingly, he works very hard to understand why he's unable to connect to youth in his classroom. Although personally vexing, he learns from the students themselves that his difficulties rest in the fact of his membership in the cultural, economic, social, and political group in power. It inescapably impacts the teaching-learning relationship. This observation is at the heart of my own work in

Subtractive Schooling

where I similarly observed this phenomenon in a three-year, ethnography of a Houston high school where most teachers were white while most students were mostly of Mexican origin.
In contrast, his students are members of subordinate groups that are frequently held in contempt and from whom little is expected. This fosters a corrosive dynamic where their shared, collective experience of marginalization in the curriculum is invisible to him—and with great consequence (my paraphrase; you should read this unusually

in-depth, article

yourself).
Yes, white teachers do need to learn about the contributions of people color, but they also need research-based, frameworks and interdisciplinary perspectives that come out of race relations and inter-disciplinary scholarship with sociopolitical and sociocultural content and perspectives that are not only attentive to questions of power, but which also help us to see education as a colonizing institution, par excellence.
Moreover, we should, as Paolo Freire, the great Brazilian educator advanced, put learning at the service of social justice. Our classes can do this through service learning, problem-based learning and assessment, as well as through participatory action research. My latest book,

Growing Critically Conscious Teachers

, provides a framework for how this may be done.
Through the lens of a test-focused, culturally chauvinistic, and linguistically eviscerating curriculum, the myth of white American exceptionalism, and thusly, (white) dominance, as a central motif, is pervasive in P-20 schooling. Since it's the "air that we breathe," it can be hard to see—for minorities and majorities alike.
To take but one mere example, this motif finds expression in curricular policies like assimilation—operationally linked to how we structure, fund, and equip (or not) domestic and foreign language instruction in our schools. For the most part, it occupies a subordinate role in the academy, and thusly, in our K-12 schools. And when present as a focus, languages of power, rather than those that emanate from—and are historically and societally important to this continent—get taught.
To begin to re-shape Holbrook's analysis into a policy agenda, we must first recognize that the relationship between children of color and the schools is a coercive one. Specifically, children are expected to assimilate to schools, while schools are not expected to assimilate to them. This is hardly a helpful premise on which to pursue an "inclusion" or "diversity" agenda.
For starters, our curriculum and teaching would need to interrogate the myth of American assimilation which assumes that all Americans begin as immigrant ethnics that need to "melt" into our country's alleged "melting pot." Many of us even have ancestors that never crossed the border; rather the border literally crossed us.
Even if young people do acculturate to the dominant language, values, and mores of this society, the assimilation framework itself is ahistorical and systematically fails to account for territorial minorities, indigeneity, colonization, and slavery and how these have created the situation of both "meltable" and "unmeltable ethnics" in U.S. society. These include Latinos/as, African Americans, Puerto Ricans, Asian Americans, and American Indians who simply cannot "turn white." Nor do they wish to, especially when biculturalism, bilingualism, and multiculturalism are viable options that at once enhance a sense of personal efficacy and help to make our country great.
Whites and others do not lose from an expansion of minority rights, and they frequently benefit.
It's not whiteness, my friends, but diversity and multiculturalism together with a progressive agenda for change, that make us the envy of the world.
If we really want to move the needle away from the dangerous path that the alt-right is attempting to taking us down as a country, then let's continue to disavow this movement and reject the politics of hate. However, let's also lend our support to Ethnic Studies, greater diversity, and our desperate need for a diverse teaching faculty at both K-12 and higher education levels that is also critically conscious in all these above-mentioned ways.
Critically conscious faculty will not solely equip all of our youth with the skills of civic engagement, but will also address the vacuum in white identity that is currently at play through a non-teaching of critical perspectives. This is a de facto "policy decision," by the way, and it undergirds the systematic mis-education of all of our youth, particularly at the K-12 level where Ethnic Studies perspectives scarcely exist.
I am happy to say that the Austin Independent School District that represents my community is leading the way in the great state of Texas. This fall, AISD will be offering ninth- and tenth-grade Ethnic Studies courses in 6 high schools and by Fall, 2018, in all high schools district wide. There's also a nationwide movement about which I have also posted amply to this blog.
To do schooling differently, all of our youth should optimally receive Ethnic Studies courses throughout their schooling experience—at K-12 and higher education levels—so that they can efficaciously navigate difference and address inequality as responsible members of a polity in a democracy. Plus, it correlates to higher academic achievement to boot—for both whites and students of color.
To conclude, Who is Responsible for James Alex Fields, Jr.? Sadly, our systemic "color blindness" in the curriculum—which only sees in white—is responsible. The absence of critical frameworks, critically conscious teachers, and teaching creates an opening for unstable, ideologically- and hate-driven youth like James Alex Fields, Jr., to bring great harm not only to society, but to themselves.
We own this man. He is our failure.
By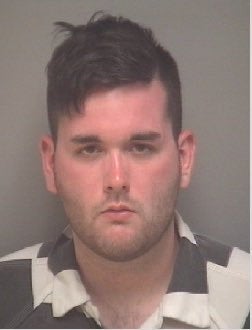 Friends, citizens, educators: we own this man.
The politicians who ran on American (read: white) exceptionalism and the people who voted for them ― and his kindergarten teacher, his granny and Mr. Rogers ― all told him he was special. And then failed to tell him he was no more special than the kids on either side of him.
Scarier still, we're making new ones just like him every day. We need to stop saying that this cult of racism is in its final death throes. At 20 years old, this alleged murderer represents an up-and-coming generation of dangerous minds with superiority complexes. From their G.I. Joe lunch boxes to their light sabers, we encouraged and then chuckled at their acceptance of violence as a way to solve problems. We took them to movies with titles like "Avengers" and "Rambo" ― in which the hero is a homicidal white male. And now we are surprised when he aspired to that ideal and reportedly transformed himself into a killer?
Teachers, this is a call to action. What if we (gasp!) stop spending an entire year of social studies schooling on ancient worlds and use a little of that time to teach current events and have students research the historical social structures that led us to where we are today? Myth busters need to bust out of science class and start shaking up history class.


Current curriculums rely too heavily on literature classes to teach "diversity." I've got another word for "diversity" ― it's called reality. Using words like diversity and (worse) "tolerance" implies that racial and social homogeny was the norm and it's changing. Homogeny was never the norm.
We need to teach about the dangers of worshiping the lifestyles of the rich and famous when many of those people are greedy psychopaths (or the offspring of greedy psychopaths), the entire Trump family being prime examples. We need to stop accepting plastic surgery as an ideal, in humans or in history.
We need to stop participating in aggressive conformity through shaming those who are genuinely trying to build bridges between races, genders, religions, etc. We need to stop sucking in our breath in the face of racist remarks because we are afraid of rocking the boat and instead ROCK THE BOAT without equivocating or worrying that we are mixing our metaphors.
This man is a hero to some. Due to the rule of law, his fate is sealed. We need to confront "the some" on every level.
We need to project the face of this man nationwide on terrestrial and internet billboards. James Alex Fields Jr., 20 years old ― loser. A failed human being.
Because we need to recognize he is our failure.